4.3inch Capacitive Touch Display for Raspberry Pi, 800×480, IPS Wide Angle, MIPI DSI Interface
4.3inch IPS screen. 800x480 resolution
Capacitive touch panel, support 5-point touch
Supports Pi 4B/3B+/3A+/3B/2B/B+/A+. Another adapter board is required for CM3/3+
DSI interface, refresh rate up to 60Hz.
Supports Raspbian/Ubuntu/Kali and WIN 10 IoT, driver free.
Connect the DSI interface of 4.3inch DSI LCD to the DSI interface of Raspberry Pi.
For easy use, you can fix the Raspberry Pi on the backside of the 4.3inch DSI LCD by screws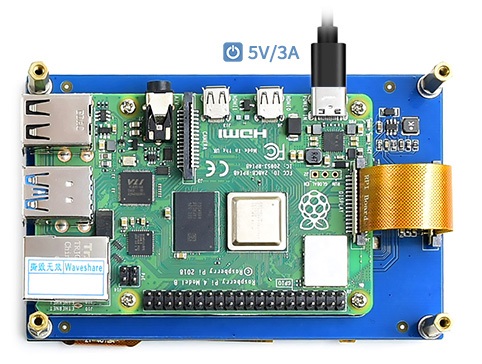 Download image (Raspbian, Ubuntu, Kali or WIN 10 IOT) from the Raspberry Pi website. https://www.raspberrypi.org/downloads/
Unzip the archive to get .img file (The installation method of WIN 10 IOT is different, please refer to its website)
Insert your TF card to PC by card reader, format it firstly
Write the .img file to your TF card by Win32DiskImager or Etcher
After writing, insert the TF card to your Raspberry Pi
Power on Raspberry Pi
To change the orientation of the display, you can modify /boot/config.txt file as below
sudo nano /boot/config.txt

display_lcd_rotate=1
dtoverlay=rpi-ft5406,touchscreen-swapped-x-y=1,touchscreen-inverted-x=1

display_lcd_rotate=2
dtoverlay=rpi-ft5406,touchscreen-inverted-x=1,touchscreen-inverted-y=1

display_lcd_rotate=3
dtoverlay=rpi-ft5406,touchscreen-swapped-x-y=1,touchscreen-inverted-y=1

If you use Raspberry Pi 4, you need to remove the line: dtoverlay=cv4-fkms-V3D
Save and reboot Raspberry Pi
sudo reboot

Open terminal and install it by the following command
sudo apt-get install matchbox-keyboard

After installing, you can click Accessories -> Keyboard to open the keyboard.